On the first day of his official visit to Pakistan, the Executive Director Abdellatif Ghedira agreed to pay an unscheduled visit to an olive nursery on the outskirts of Islamabad. The IOC delegation were accompanied by Dr Muhammed Kakar.
On arrival, the IOC representatives were welcomed by Pakistani officials involved in the development programme of the country's olive sector. During the visit, they were shown a sizeable area where healthy and varied seedlings were being produced and at an advanced stage. The plantation was composed of olive varieties from several countries: France, Greece, Italy, Spain, Tunisia and Turkey.
The Executive Director congratulated the promoters of this ambitious plan, while noting the opportunity to complement the knowledge of technicians to improve the management of olive groves. He offered the expertise and know-how of the IOC to ensure the success of the project.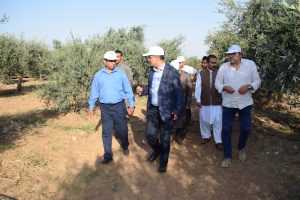 The Pakistani party thanked the Executive Director for his involvement in this endeavour and confirmed their desire to see Pakistan join the Organisation as soon as possible. They also informed him of their ambition to plant 10 million olive trees in the next three years (one million trees have already been planted) and indicated that the nursery he visited would provide the bulk of the seedlings, with the collaboration of other nurseries in the country.
Technical information was exchanged, and the Executive Director encouraged Pakistan to continue its efforts, particularly in the areas of quality and good production practices, stressing the importance of establishing IOC-approved laboratories and tasting panels.
The delegation returned to Islamabad at daybreak.
Mission du Directeur exécutif au Pakistan
Au premier jour de sa visite officielle au Pakistan, le Directeur exécutif a répondu favorablement à une demande de visite non programmée d'une pépinière d'oliviers aux environs d'Islamabad. La délégation du COI s'y est rendue en compagnie du Dr Muhammed Kakar.
À leur arrivée, les représentants du COI ont été accueillis par les fonctionnaires pakistanais impliqués dans le programme de développement du secteur oléicole du pays. La visite leur a permis de découvrir un espace assez important où la production de plants sains et variés était déjà à l'œuvre et à un stade avancé. La plantation était en effet composée de variétés d'oliviers de plusieurs pays : Espagne, France, Tunisie, Italie, Grèce et Turquie.
Le Directeur exécutif a félicité les promoteurs de ce plan ambitieux, tout en soulignant l'opportunité de compléter les connaissances des techniciens pour améliorer la conduite des oliveraies. Il a proposé à la partie pakistanaise de mettre à sa disposition l'expertise et le savoir-faire du COI afin de garantir la réussite de ce projet.
Les interlocuteurs pakistanais ont remercié le Directeur exécutif pour son implication dans cette entreprise et ont confirmé leur volonté de voir le Pakistan rejoindre l'Organisation dans les meilleurs délais. Ils l'ont par ailleurs informé de leur ambition de planter 10 millions d'oliviers dans les trois prochaines années (un million d'arbres ont déjà vu le jour) et indiqué que la pépinière visitée fournirait l'essentiel des plants, avec la collaboration d'autres pépinières du pays.
Des informations de nature technique ont été échangées et le Directeur exécutif du COI a encouragé la partie pakistanaise à poursuivre ses efforts, notamment dans les domaines de la qualité et des bonnes pratiques de production, et a insisté sur l'importance de la mise en place de laboratoires et de jurys de dégustations agréés par le COI. La délégation a regagné Islamabad au tomber du jour.