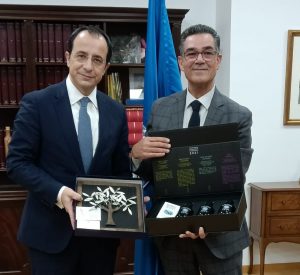 During a visit to Spain, Cypriot Foreign Minister Nikos Christodoulides paid a visit to the Executive Director of the IOC, Abdellatif Ghedira, at the Organisation's headquarters on 9 November 2021.
The Minister, who was accompanied by the Ambassador of Cyprus in Madrid and the Head of Protocol of the Embassy, was welcomed by the Executive Director, the Head of the External Relations Department of the Executive Secretariat and Professor Luis Rallo of the University of Cordoba.On this occasion, Nikos Christodoulides presented the Executive Director with a Cypriot olive tree, which will be planted in the forecourt of the headquarters building.
The subsequent discussion focused on the activities implemented by the IOC, in particular those involving Cypriot institutions. Luis Rallo gave an overview of the True Healthy Olive Cultivars (THOC) project and highlighted the dynamism of Cyprus' participation in this project. The meeting ended with an exchange of gifts between the two officials, a photo opportunity and a note written by the Minister in the guestbook of the Organisation.
VISITE DU MINISTRE DES AFFAIRES ETRANGERES DE CHYPRE AU SIEGE DU COI
En marge de sa visite en Espagne, le ministre chypriote des Affaires étrangères, Nikos Christodoulides, a rendu une visite de courtoisie au Directeur exécutif du Conseil oléicole international, Abdellatif Ghedira, au siège de l'Organisation, le 9 novembre 2021.
Le ministre, qui était accompagné de l'Ambassadrice de Chypre à Madrid et du responsable du protocole de l'ambassade, a été reçu par le Directeur exécutif du COI, le chef du Département des relations extérieures du Secrétariat exécutif et le Professeur Luis Rallo de l'Université de Cordoue. À cette occasion, Nikos Christodoulides a offert un olivier d'une variété chypriote au Directeur exécutif, qui sera planté sur le parvis du siège.
L'entretien qui a suivi a porté sur les activités mises en œuvre par le COI et en particulier celles auxquelles participent les institutions chypriotes. À ce titre, Luis Rallo a donné un aperçu du travail réalisé dans le cadre du projet True Healthy Olive Cultivars (THOC) et souligné le dynamisme de la participation de Chypre à ce projet. L'entretien s'est achevé par un échange de cadeaux entre les deux responsables, une séance de photos souvenirs et une note écrite par le ministre sur le livre d'or de l'Organisation.