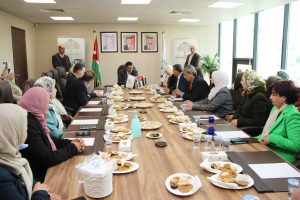 In Amman, Minister Khaled Al-Henefat, chair of the IOC, praised their efforts. On 20 February 2022, the Jordanian Women's Olive Oil Network was celebrated for qualifying for the sensory analysis of olive oil (the middle and the north teams), the first of its kind. The event took place under the high patronage of His Excellency the Minister of Agriculture and Chair of the IOC, respected engineer Khaled Al-Hanaifat, and in the presence of kind friends and colleagues from the Ministry of Agriculture.
The event also honoured the Jordanian experts who trained and qualified the team, engineer Jamal Al-Batsh and Dr Murad Al-Maaytah.
The team from the middle for the sensory evaluation of olive oil 11-members , led by Eng. Samar Momani and debuty Laila Hassouneh and the North team 12 members led by Eng.Lana Bani Hani and deputy Nisreen Saadoun trained in the sensory analysis of olive oil . The teams were selected according to the international standard for olive oil issued by the IOC and the laboratory of the Jordanian Standards Institution.
This training is a great achievement for Jordan and the Ministry of Agriculture, the umbrella of the Jordanian olive sector. Their work will spread the culture of olive oil, improve the quality of their production, and promote the consumption of Jordanian extra virgin olive oil.