The Executive Secretariat and a group of representatives from the Japanese olive sector confirmed their shared desire to strengthen collaboration in support of the IOC and relaunch the Organisation's mission in Japan.
This was the conclusion of a videoconference attended by representatives of the Ministry of Agriculture, the Japan Oilseed Processors Association (JOPA) and producer regions and consumers on 13 September 2022. More than 40 people attended the meeting from the Japanese side, including the Managing Director and the Chair of the International Division of JOPA; the Director of New Business and Food Industry Department of the Ministry of Agriculture, Forestry and Fisheries; and the Chief Researcher at the Olive Research Institute.
The meeting was organised by JOPA. Mr Saito, the Managing Director, welcomed the representatives from the IOC: Jaime Lillo, Deputy Executive Director; Mercedes Fernández, Head of the Standardization and Research Unit; Imene Trabelsi, Head of the Promotion Department; and Juan Luis Vicente, Head of the Economic Research and Statistics Department.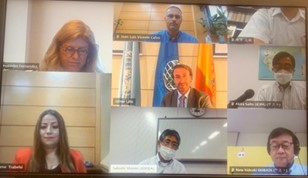 The parties discussed topics of interest to the worldwide olive sector, and particularly Japan, namely the promotion of olive production in Kagawa Prefecture. They also discussed various topics related to the world production of olive oil, IOC standards, health and sustainability as well as the IOC strategy.
In recent years, Japan has had several physico-chemical and sensorial laboratories officially recognised by the IOC. It is now time to build on this collaboration so the country can become an IOC member. While pandemic-related restrictions are still in place in Japan, in-person activities will be relaunched as soon as possible. Jaime Lillo took this opportunity to invite the Japanese representatives to the Advisory Committee meeting and the plenary of the 116th session of the Council of Members in November 2022.