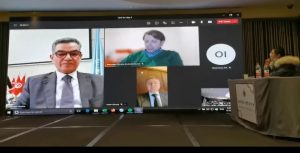 The year ended on a high note for the IOC's promotional campaign in China. Executive Director Abdellatif Ghedira (pictured) spoke at the closing ceremony of the advanced training course for sensory analysis of virgin olive oils organised in Chendu from 27 to 30 December. The IOC's promotion campaign in China was a success after the initial course in Beijing and the intermediate course held in Chendu both in 2019.
Director Ghedira in his message of greetings, delivered in French and translated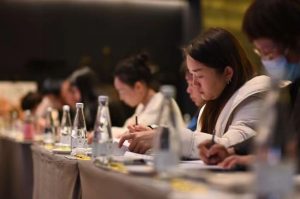 consecutively into Chinese, officially thanked Mr. Bai, Secretary General of Olive branch of cash and forestry association and Mrs. Xiao, Vice President of Olive development association of Sichuan province, for their support applying  the IOC's campaign project, who were present during the ceremony. Mr Ghedira also conveyed the greetings of the executive secretariat to all the participants of the advanced sensory analysis course. The Executive Director was pleased to underline the dedication of all the participants in order to increase correct information about olive oil in the Chinese market
Olive oil," Ghedira further reported, "is a sector that contributes to sustainable development through the conservation of natural resources. It is environmentally friendly, it can help create jobs and increase farmers' incomes, and olive oil is also a friend to man because it is good for his health and helps curb climate change by absorbing CO2.
Continuing his speech, mr. Ghedira recalled that the IOC is an international organisation that currently has 18 members (44 nations) and its members represent about 94% of world production of olive oil.
Since 2019, IOC has carried out many activities in China with training courses and workshops organised in many cities thanks to the collaboration of the already mentioned organisations Cash and forestry Association; Olive Branch, Sichuan Olive development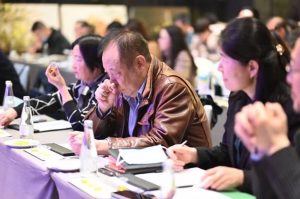 association the promotion campaign is also successful thanks to the support of research bodies and institutions such as the Longnan Research Institute and thanks also to the Regional Governments.
The Chendu event was attended by 70 people from research institutes, official governmental organisations, importers and producers. The closing ceremony was opened by Mrs. Bao of the Sichuan Forestry and Grassland Bureau and Mr. Ender Gunduz Head of the IOC's Economy and Promotion Unit. 
The hope is that these 70 participants, thanks also to this training, can be new ambassadors to promote the best of olive oil consumption culture in China.