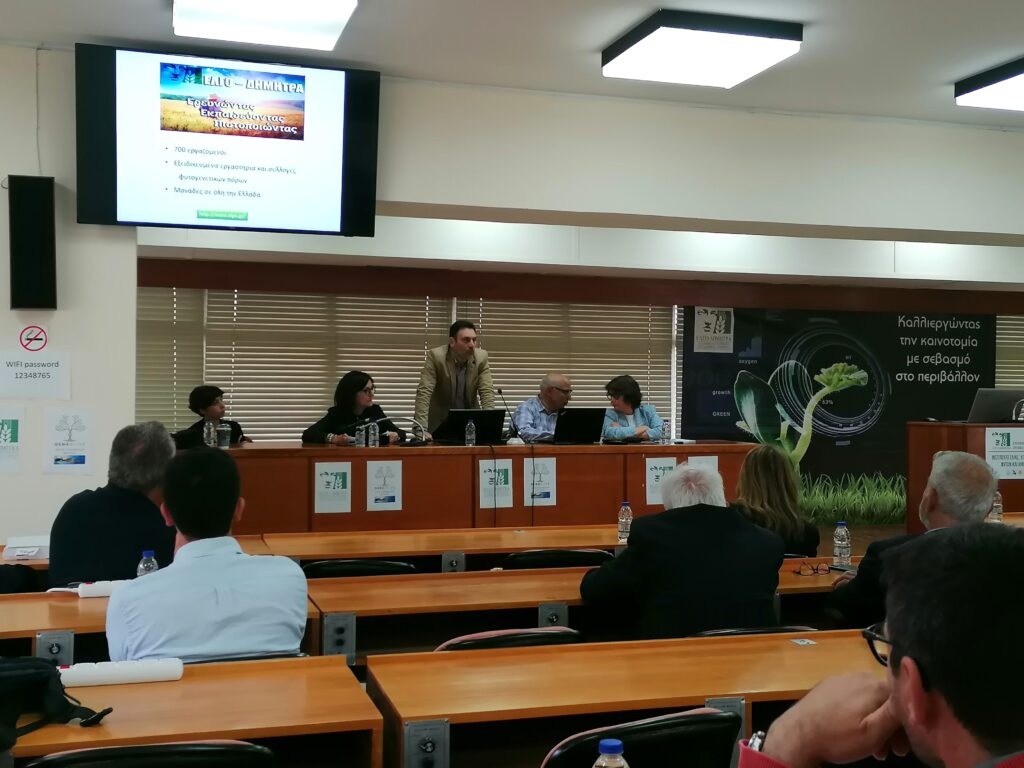 The Institute of Olive Tree, Subtropical Crops and Viticulture (ELGO-DIMITRA) organised an event on "International trends and opportunities for cooperation in the olive sector" in Chania, Greece, on Thursday 11 May 2023. The event counted with the participation of representatives of the International Olive Council (IOC), the Ministry of Agriculture, the region of Crete, regional districts and municipalities, associations of bottlers and exporters, cooperatives, nursery growers and other bodies.
The IOC was represented by Lhassane Sikaoui, Head of the Olive Growing, Olive Oil Technology and Environment Unit, and Catarina Bairrão Balula, Head of the Technical Cooperation and Training Department, who gave a speech on the theme of "International trends and cooperation opportunities in the olive sector".  The Ministry of Rural Development and Food of Greece was represented by Magdalini Rappou, Head of the Directorate for Research, Innovation, and Education in the Rural Sector. ELGO DIMITRA's director, Georgios Psaras, and the Head of the Olive Cultivation Laboratory, Georgios Koubouris, welcomed the participants.
Numerous stakeholders participated and showed a strong interest in developing a stronger collaboration with the IOC.
The main topics of discussion were:
Practical results from the research carried out by ELGO-DIMITRA
Innovation and education programs by the Ministry of Rural Development and Food
The role of the International Olive Council
New trends in olive grove planting systems
Creation of new olive varieties
The Nutriscore
Labelling and categories of olive oil
Controls and regulations of olive oil
Promotion of consumption in Greece
The balance between good producer prices and affordable consumer prices
Collaboration possibilities
The organisations that participated in the event expressed their interest in cooperating with ELGO-DIMITRA for the modernisation of the olive sector, with a particular emphasis on ecological cultivation, product quality and safety, and the reduction of production costs.