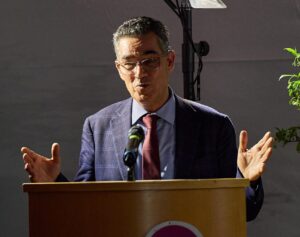 Rome, 6 May 2023 – The Mediterranean diet continues to be recognised and promoted for its health benefits and its key role in preventing many diseases. On a weekly basis, the International Olive Council (IOC) reports through the OHIS platform it has created in collaboration with the University of Navarra on the results of research carried out on the "Mediterranean diet", which was included in the 2010 UNESCO list of Intangible Cultural Heritage of Humanity.
In the framework of the 24th edition of "Race for the Cure 2023" at the Circo Massimo in Rome, the world's largest event for the fight against breast cancer, the CIHEAM of Bari, a long-standing partner of the IOC, organised an event entitled "Cirene Project – a pact for the health of Mediterranean women", in collaboration with Komen Italia, the A. Gemelli IRCCS Hospital, the Pandolea Association, the Food and Agriculture Organisation (FAO) and the Italian Ministry of Foreign Affairs and International Cooperation, on 6 May 2023.  The Executive Director of the IOC, Abdellatif Ghedira, was invited to participate in said event.
Race for the Cure® is Europe's largest sporting event for women's health. Its aim is to help breast cancer organisations and hospitals raise funds and awareness. As the promoters of this initiative point out, "with 500,000 new diagnoses and 125,000 people dying from breast cancer in Europe every year, these funds are vitally important." To this end, an increased exchange of knowledge is needed among Mediterranean populations, especially among young women, who are the true heirs and keepers of these cultures.
It is in this context that the Cirene project seeks to protect women's health and promote positive synergies between various organisations and associations, all committed to the common goal of increasingly spreading healthy eating habits and lifestyles, particularly across southern Mediterranean countries. On this basis and given that one cannot talk about the Mediterranean diet without talking about olive oil, the Italian association of olive oil women, Pandolea, was invited to the Cirene event, along with other distinguished guests, including the Director of the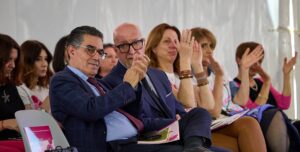 IOC, the only international organisation in the world working for the promotion and standardisation of olive oil. Mr. Ghedira congratulated the President of the association, Ms. Loriana Abbruzzetti, and celebrated the commitment of the Pandolea association, which is celebrating its 20th anniversary this year. "Pandolea," said the IOC Director, "represents a virtuous model and has inspired the birth of other similar movements in the Arab countries and the United States, which the IOC has been supporting for several years. In olive growing, the presence of women has been and continues to be fundamental, especially in food education programmes for new generations of consumers and in training programmes."