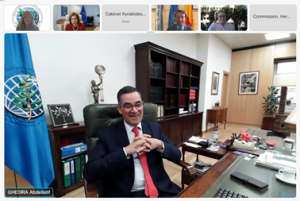 IOC Executive Director discusses Nutri-Score with EU Commissioner for Health and Food Safety Stella Kyriakides
Executive Director Abdellatif Ghedira met with the European Commissioner for Health and Food Safety, Stella Kyriakides, in a video conference on 22 March 2022 to discuss the issue of nutrition labelling on packaging.
Mr Ghedira, who was accompanied by Jaime Lillo, the Deputy Executive Director, and Mercedes Fernández, the Head of the Standardisation and Research Unit, expressed the concern of the olive sector about the unfavourable classification of olive oil by the Nutri-Score private labelling scheme. He reminded the Commissioner that the EU was by far the world's largest producer of olive oil, with 65% of total production, and as a member of the IOC it had always supported the IOC's olive oil promotion policy. He pointed out that all the promotion activities carried out by the Organisation were indeed based on the results of scientific research that had for several decades demonstrated the health benefits of olive oil and the positive effect of its consumption in reducing mortality associated with many chronic diseases (cardiovascular accidents, cancer, obesity, diabetes, etc.).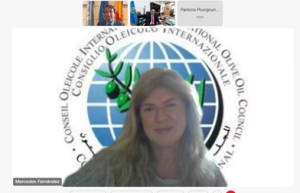 Kyriades recalled the principles of the EU's Farm to Fork strategy, including its objective to promote healthy and balanced eating. She added that this strategy includes the application of a harmonised labelling system. She was fully aware of the specificities of olive oil and assured Mr Ghedira that they would be taken into account. The results of the public consultations and the conclusions of the European Food Safety Authority will be available in the coming weeks and no decision has therefore yet been taken in this respect. A legislative proposal will be presented by the end of the year.
Mr Ghedira offered to provide Ms Kyriaki  des with the results of scientific studies on olive oil to assist the forthcoming decision on the classification of olive oil in the EU's harmonised labelling system.
Mr Ghedira thanked the European Commissioner for her availability and expressed his wish to seize this unique opportunity to properly explain to consumers the nutritional properties and health benefits of olive oil through clear labelling. He concluded that olive oils must be promoted and everything possible must be done to avoid confusion and penalisation for this product as is the case with the current Nutri-Score system.