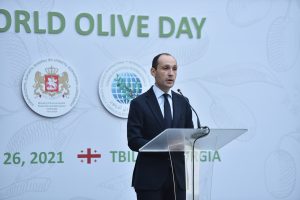 The results of the 114th session of the IOC in Tblisi get a positive balance of shared intentions between the Executive Secretariat, member countries and the presidency of Georgia. A Georgian television news (you could find here the link to the full version), declared that when the common objectives of the International Agreement on Olive Oil and Table Olives are shared, cooperation bears fruit.
In this report, the Georgian press has fully grasped the true meaning of this international agreement: to cooperate in supporting the sector, to create wealth in the country through product marketing and labour leverage; to protect the environment and for involving and informing consumers.
Georgia has some high-level players in this olive mission. First and foremost, the vice-premier and minister of environmental protection and agriculture, Mr. Levan Davitashvili (pictured), a politician more attentive to listening and very determined to do positive things. He immediately assented how important is the olive sector could have for Georgia in economic, employment and environmental areas. George Svanidze, current president of the IOC. He is a Georgian entrepreneur and patron who has managed in creating a link between the desire to create an ambitious project in the olive sector in the South Caucasus region and the willing to reach a Georgian leading role in this endeavour. There is room for action and development," he says, "but to meet the challenge we need alliances and the cooperation of the international community. "That is why we are here in the first place," says IOC Executive Director Abdellatif Ghedira.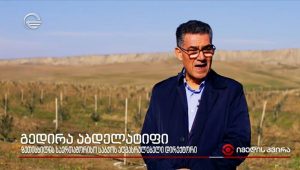 "We are working hand in hand with member country institutions to: encourage the expansion of the international trade of olive oil and table olives, on the basis of obligatory trade standards for members that were developed internally and are regularly updated in order to defend the quality and fairness of trade; give to the government representatives and experts the opportunity to meet regularly to discuss issues and set priorities; work closely with representatives of diverse actors in the private sector: producers, processors, business people and consumers".
In this framework of international cooperation, Mr Ghedira ended: "to support international technical cooperation through research and development projects, training and the transfer of technology; boost the integrated, integral and sustainable development of olive growing and the olive industry and enhancing their relationship with the environment and the preservation of genetic resources of the olive tree; promote olive oil and table olives to consumers using plans of action and promotion campaigns; spread clear and precise data and statistics on the global market of olive oil and table olives".
Georgian vice-prime Minister Levan Davitashvili and IOC President George Svandize have successfully pursued these actions, judging by the numerous official meetings at IOC headquarters in Madrid over the past two years, which are well documented in the following TV report. Enjoy it.