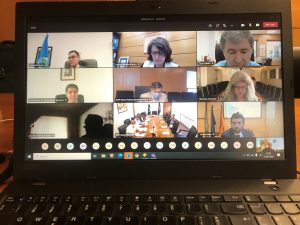 The International Olive Council approached Pakistan to enquire about its plans to develop the Pakistani olive sector.
The two parties agreed to hold a virtual meeting to discuss the Pakistani olive sector. On 27 May 2021, a videoconference was held between the senior trade officer of the Embassy of Pakistan, officials from various Pakistani ministries in charge of the olive sector and the Director General of the Agro-Food Division at the Trade Development Authority of Pakistan Abdul Karim Memon. The IOC Executive Secretariat was represented by its Executive Director, Abdellatif Ghedira, and several IOC officials.
After introductory speeches by the two senior officials, the Pakistani party presented an overview of the country's olive sector, its development and prospects. He spoke of the Pakistani government's commitment to increasing its olive production, modernising its facilities and improving the quality of its olive products.
The Deputy Executive Director for operational activities and his heads of unit presented the mission of the IOC and its activities, outlining what the Organisation could offer, should Pakistan become a member, in terms of expertise and technical assistance to contribute to the success of the Pakistani government's development plan.
The Head of the Legal Department of the IOC then explained how to join the Organisation. He was followed by the Head of the Observatory Department, who gave an overview of this informative tool and stressed its importance.
At the end of the presentations, Dr Muhammad Azeem Khan, Chair of the Pakistan Agricultural Research Council, thanked the Executive Secretariat for organising the meeting. He also expressed his satisfaction with the dialogue initiated between the two parties and his wish to see his country join the IOC.
Both parties left with the commitment to continue their talks through the economic and commercial section of the Pakistani Embassy in Madrid.