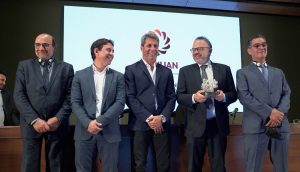 On 14 April 2022, Abdellatif Ghedira, the Executive Director (ED) of the IOC, visited the faculty of chemistry and the national germplasm bank of Argentina and presented a prize to one of the winners of the Mario Solinas Quality Award.
The ED and the Head of the External Relations Department flew to San Juan in a plane provided by the Argentinean Minister of Agriculture. On arrival, a brief meeting was held with the Governor of the Region, Sergio Uñiak, and the Argentinean Minister of Productive Development, Matias Kulfas. The ED took the opportunity to thank the Governor for welcoming them to his region and presented him with a gift as a token of his appreciation.
The IOC delegation then visited the faculty of chemistry to meet with the heads of the olive oil research centre and the leaders of the IOC-recognised panel of San Juan and Mendoza. A lively debate ensued, and the ED recalled the objectives of his visit:
To register the Arauco variety in the international catalogue of varieties
To recognise the international aspect of the national germplasm bank
To look into introducing a Mario Solinas competition for the Southern Hemisphere, to be held at the end of the year.
The ED also congratulated the panels for their hard work and for the good reputation they hold among other panels. A visit to the tasting room and souvenir photos were taken.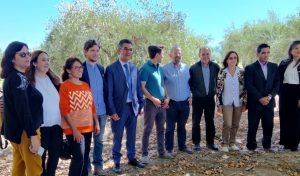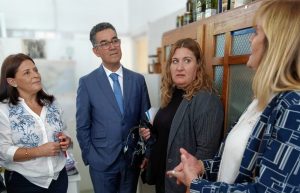 The visit continued with a tour of the San Juan germplasm bank. The bank is managed by the National Institute of Agricultural Technology (INTA) and the Agricultural Experimental Station (EEA), both under the Ministry of Agriculture.
The collection spans about 15 hectares and includes around 100 varieties and more than 1 000 olive trees. A detailed presentation was given to the IOC delegation by those in charge of the collection, followed by a visit to the orchards.
At the end of the day, the ED went to the El Mistol orchard to present a medal and diploma to Victoria Mercado, whose entry won first place in the Southern Hemisphere category of the Mario Solinas Quality Award. Several elected officials from the region attended the event. The ED congratulated the lucky winner and encouraged her to continue producing quality olive oil. The company managers thanked the ED for travelling from Madrid to present them with this award and invited him to a cocktail party to mark the occasion.
At the end of the mission, the Executive Secretariat must express its gratitude to the officials of the Ministry of Agriculture, INTA, SENASA, the San Juan germplasm bank, and especially to Sofia Tagarelli, the Argentine representative to the IOC, who spared no effort to make the visit a success.
Executive Director on mission to Argentina (4)