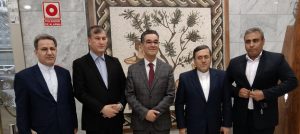 Mr Boroomandi Iranian Jahad, the Deputy Minister of Agriculture of the Islamic Republic of Iran, paid a courtesy visit to Mr Abdellatif Ghédira, the Executive Director (ED) of the IOC, on 4 March 2022. He was accompanied by the Iranian Ambassador to Spain and the Head of the Iranian Delegation to the IOC.
The ED and the Head of the External Relations Department, Mr Mounir Fourati, welcomed the delegation to the headquarters building.
Discussions focused on cooperation between the two parties and the contribution that Iran must make as soon as possible to continue to benefit from the IOC.
The Deputy Minister thanked the Organisation for its support for the programme to develop the Iranian olive sector and undertook to deal with the issue of the Iranian contribution personally, as soon as he gets back to Tehran.
At the end of the meeting, souvenir photos were taken, gifts were exchanged and the Iranian Deputy Minister wrote a few sentences in the IOC guestbook.