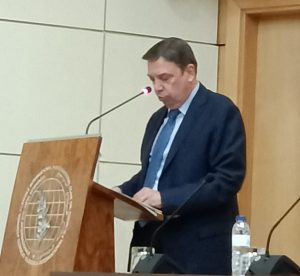 The Spanish Minister of Agriculture, Fisheries and Food, Luis Planas pictured with Executive Director Abdellatif Ghedira, opened the proceedings of the international conference on NUTRITIONAL AND HEALTH LABELLING OF EXTRA VIRGIN OLIVE OILS IN THE EUROPEAN UNION. The event was organised by the IOC Executive Secretariat in collaboration with the QvExtra! association at IOC headquarters in Madrid. The Chair of the Advisory Committee, Ali Ben Elhaj M'barek and the Chair of the QvExtra! association, Ms Soledad Serrano, will also attend the event.
The event comes at a key time, since an EU regulation on labelling is expected later this year. The conference will bring together top experts from the IOC to try to bring clarity to the challenge of transparency that affects trade diplomacy in Europe and beyond.
Minister Luis Planas thanked the Executive Director, his two Deputy Executive Directors Jaime Lillo and Mustafa Sepetçi, and the entire staff of the Executive Secretariat for the care taken on this issue and wished for more clarity on olive oil labelling.
The conference is now live until to 2pm on 20 May 2022. Stream the event on YouTube here:  https://youtu.be/BBOFr0HlIjA