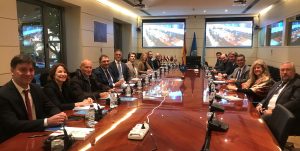 Strengthening international collaboration for the continuous training of expert teams in the field of olive oil chemistry, organoleptic analysis and information dissemination.
These were the topics discussed at a bilateral meeting between the Department of the Central Inspectorate for the protection of quality and repression of fraud in food products (ICQRF) of the Italian Ministry of Agriculture and the Executive Secretariat of the IOC in Madrid.
The Italian delegation was led by Felice Assenza, the Head of Department, accompanied by Emilio Gatto, the Director General, and senior managers and officials of the ICQRF. They were welcomed at headquarters by Abdellatif Ghedira, the Executive Director, and Jaime Lillo, his Deputy Executive Director. They were joined by Mercedes Fernandez, the Head of the Standardisation and Research Unit; Mounir Fourati, the Head of the External Relations Department; Eduardo Muela, the Head of the Legal Affairs Department; and Michele Bungaro, the Head of the Observatory Department. The meeting was also attended by Nicola Carbone, Commercial Attaché of the Italian Embassy in Madrid and Andoni Olano, Assistant to the Executive Director of the IOC.
The main purpose of the meeting was to identify and share objectives for applying common anti-fraud rules in the olive oil sector. 'Leveraging,' said Department Head Assenza, 'product traceability and the verification system, which for olive oil account for more than 50% of the checks carried out in Italy.'
Ghedira thanked the ICQRF delegation, adding that 'the issues addressed in the meeting are outlined in the first article of the International Agreement on Olive Oil and Table Olives for objectives regarding standardisation and research'.
Stressing the depth and quality of the content addressed, Ghedira also said that he appreciated this initiative from Mr Felice Assenza and the Executive Secretariat would support all actions to enhance olive oil quality and facilitate international trade.
He announced that he would share the proposal with the members concerned to discuss axes for future cooperation to share the methods and tools for fraud detection and product traceability with all members. The IOC is the world's only international and intergovernmental organisation in the olive oil and table olive sector. It was created in Madrid, Spain, in 1959, under the auspices of the United Nations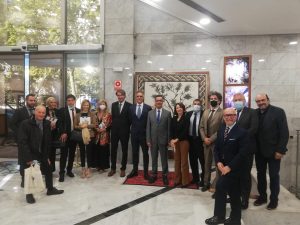 The ICQRF of the Italian Ministry of Agriculture, Food and Forestry Policies, with its headquarters in Rome, 19 regional inspection offices, six accredited chemical laboratories and 720 inspectors, has a key presence throughout the country.
The Italian delegation visiting the IOC included Paolo Tolomei, Head of Unit PREF 3; Valentina Di Bona, Head of Unit VICO 4; Marina Fiori, lawyer and senior officer; Fabrizio Gualtieri, lawyer and senior officer; Barbara Catizzone, senior officer; and Domenico Vona, senior officer.