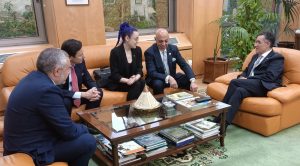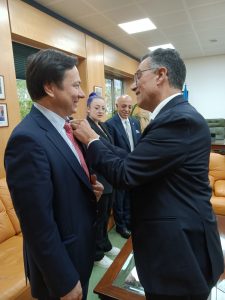 On 28 April 2022, Executive Director of the IOC Abdellatif Ghedira welcomed a Georgian delegation led by George Zvanidze, outgoing Chair of the Council of Members, and Ilia Giorgadze, Georgian Ambassador to Spain, to the IOC.
The Georgian delegation included a distinguished guest: Yavuz Selim Yükselir, Chair of the Board of the Turkish Yükselir Group, who was appointed Goodwill Ambassador by the Secretary General of the World Tourism Organisation (UNWTO) on the eve of the visit.
Deputy Executive Director of the IOC Jaime Lillo described the many advantages of the growing olive sector for investors.

Mr Ghedira then explained the positive impact of olive growing on the environment, its tangible economic and social benefits, as well as the health benefits of consuming olive oil. He took the opportunity to congratulate his Turkish guest for his appointment as UNWTO Ambassador.
At the end of the meeting, the Executive Director gave IOC pins to Yavuz Yükselir and George Zvanidze. Gifts were exchanged and photos were taken.